---

Please allow me to introduce myself. I am Mark, your private driver-guide in New Zealand. I am 60 years old, and both a New Zealander and Swiss of Polish origin. I am in the business of luxury private guided tours, which I lead personally in New Zealand and overseas. I am a perfectionist, and my tours are always organized to the smallest detail. Perhaps this is due to my Swiss origin (my watchmaker's side). My tour company is not the largest, but one of the finest luxury tour companies in New Zealand. Read
more...
---
All my tours are private and custom-made just for you. Please
contact me
, send me an
email
or fill-out the
personalized tour request form
and I will suggest an itinerary to suit your dates, interests and needs. Alternatively, I have prepared and priced some ready-made
suggested itineraries
, i.e. in
25
,
14
or
10
days. My minimum is 10 days, and a fully inclusive tour starts at NZ$9,250 (ca US$7,600) per person.
---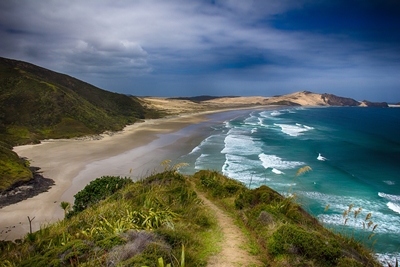 New Zealand, the land of the long white cloud, is a unique and inspiring nation full of hidden secrets. If there is ever a country where you will benefit from taking a private guided tour, New Zealand has got to be it. Our roads are narrow and winding and being
an expert driver / tour guide
, I will take the pressure from negotiating our unique roads away and allow you to relax. The scenery is abundant, natural and so beautiful.

By taking one of my incredible
guided tours
you won't miss a thing. My tours allow you the chance to stay in
small, unique and welcoming establishments
. These are much different to the chain hotels frequented by large group tours. This is such a wonderful opportunity to chat to locals and to really take some time to explore our small towns and all they have to offer.

Taking a tour with me will also provide you the time to do some unique shopping. Many of New Zealand's small communities are havens for artists and writers.

I will give you the amazing opportunity to return home with amazing souvenirs and stories to tell. This is much different from the mass-produced souvenirs that larger tour groups frequent to allow passengers some shopping time and to mingle with the locals. I give you the freedom to really get a feel for the country.

Some of our most breathtaking scenery is located on smaller roads where large, heavy buses used by commercial tour groups simply cannot go. With my private tours I can take you off the beaten track and really show you this stunning country. Your tour will be tailored to suit your needs 100% of the time. You won't be waiting around for a bus full of people to finish dinner, nor will you be standing in a long line of passengers waiting to use a bathroom. When you tour with me, your time is used as you want it to be used. A small and private tour affords us the flexibility to change plans to suit your mood on any given day.

New Zealand is a land full of secrets and hiding places. Our magical lakes, amazing rivers, volcanic wonderlands, breathtaking waterfalls, sparkling coastline and awesome mountains are here for you to enjoy.

My private guided tours will ensure you see it all. Your journey in New Zealand with me will be unforgettable.