---
For your flights and airfares to New Zealand, I suggest you
• Ask your local travel agent; he is often in best position to offer a good solution.
• Try airlines' online booking systems:
1) If you live in North America: Air New Zealand, Qantas, Air Tahiti Nui
2) If you live in Europe, you can fly to New Zealand either via Asia or via the USA. Try one of the airlines mentioned above, your national carrier, Emirates (best service and aircraft in our experience), Singapore Airlines, Cathay Pacific (Hong-Kong), Korean, Eva Air (the airline of Taiwan) or Japan Airlines to quote only a few.

It is a good idea to book a flight arriving into Auckland (airport code AKL) and leaving from Christchurch (airport code CHC), or conversely, if you can manage to; this is because most of the tours of New Zealand (whether they are guided or not) will be one-way from one city to the other.
N.B. It is pointless to attempt a Business Class or First Class booking for your domestic flights within New Zealand. Even though some reservation systems might allow you to do so and charge you a higher airfare, there is, in fact, only one class on the domestic aircraft.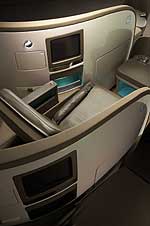 It is, of course, as useful as ever to fly First Class or Business Class on the international portion of your travel. More and more airlines tend to drop their First Class, though. Air New Zealand's Business Premier class replaces now its former First Class but at a cheaper fare; however it offers a completely flat sleeping bed.
N.B. Air New Zealand is a member of StarAlliance (Air Canada, Air New Zealand, ANA, Asiana Airlines, Austrian, bmi, LOT Polish Airlines, Lufthansa, Scandinavian Airlines, Singapore Airlines, Spanair, TAP Portugal, Thai Airways International, United, US Airways and VARIG Brazilian Airlines - and soon Swiss and South African Airways) and the Frequent Flyer Programme (FFP) upgrade redemption is now progressively applicable across these various airlines, potentially generating extensive savings on your First Class and Business Class airfares.
Here is also some advice that, I hope will help in your search of a suitable airfare.
Book early

Many cheap airfares are obtained provided that you make a booking early. The best international airfares often need a booking 30 days in advance at least. Booking as soon as you know your air travel dates improves your chances of getting a cheap airfare.
Weekday flights usually cost less

Tuesday, Wednesday and Thursday flights often operate at lowest airfares. Airfares tend sometimes to be higher on Mondays and Fridays than on other weekdays. Saturday flights sometimes have discount fares, but it is generally more expensive to fly on a weekend than on a weekday.
I repeat: book early
New Zealand and international airlines have only a small number of seats at the lowest fares. When these seats are sold, the price increases.
If you are unlucky at your planned dates, try an earlier or later flight

To obtain the smallest return air fare, that fare must exist on both ways (flight to your holiday destination and flight back home). If the airfare is sold out on either of these dates, the price you obtain will be more important. Try an earlier or later flight if you are unable to locate the airfare you are hoping; or, maybe, consider flying on another day.
Looking for the smallest airfares from the world's largest cities?

If you live in New York, Washington DC, Chicago, London, Paris, Milan, Dallas or Houston, remember that all these cities have several airports, each with their own airport code. Instead of trying one airport after another, just type the city name in full, and you will be automatically supplied with the best fares from all the surrounding airports. You can also use the 3-letter codes which will give you all possibilities from all surrounding airports; here are some examples:
New York City (NYC for either New York John F. Kennedy JFK, or New York La Guardia LGA)
Washington, DC (WAS covers Baltimore BWI, National DCA and Dulles IAD)
Chicago (CHI for Chicago O'Hare ORD or Chicago Midway MDW)
London (LON for both London Heathrow LHR and London Gatwick LGW)
Paris (PAR - for both Roissy Charles de Gaulle CDG and Orly ORY)
Milan (MIL for either Malpensa MXP or Linate LIN)
Dallas (QDF covers Dallas / Ft Worth Intl DFW and Dallas Love Field DAL)
Houston (QHO covers Houston Hobby HOU as well as Houston George Bush Intercontinental IAH)
Consider also some airports further away, or a little out of the ordinary. Instead of Los Angeles, you could maybe fly out of San Francisco: there are now direct flights from San Francisco (SFO) to Auckland (operated conjointly by Air New Zealand and United); they might offer some airfare advantages depending on where you live.